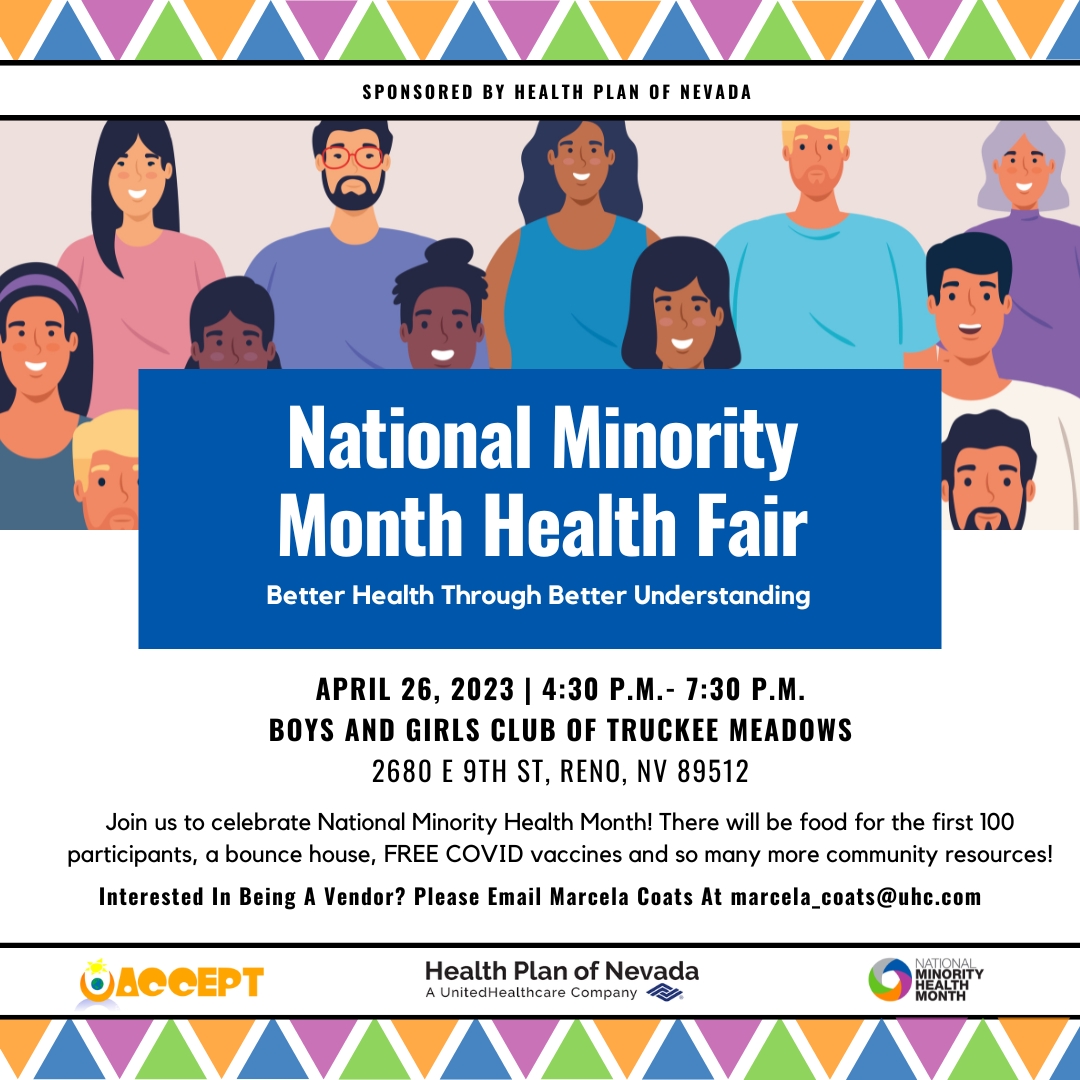 National Minority Month Health Fair
Wednesday, April 26th 2023
Join us to celebrate National Minority Health Month!
There will be food for the first 100 participants, a bounce house, FREE COVID vaccines and so many more community resources!
This event is sponsored by Health Plan of Nevada!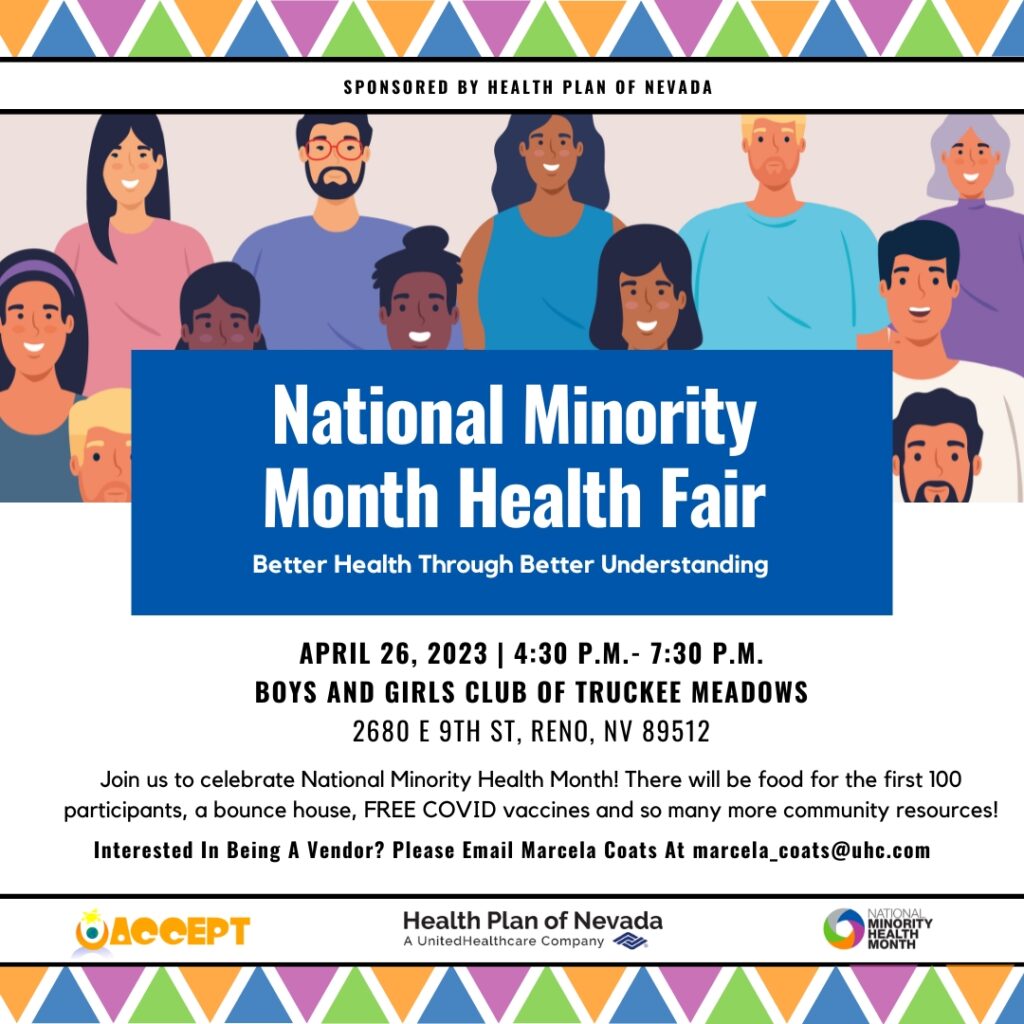 Black History Month:
Living the Black Wall Street Legacy: Family Wellness Fair!
Saturday, February 11th, 2023
On Saturday, February 11th, 2023, ACCEPT hosted the Black History Month Health Event at the Boys & Girls Club of Truckee Meadows from 2-6pm.
The community joined us for music, a bounce house, games, wellness bags, $25.00 Gift cards to the first 50 people, a free meal voucher to the first 100 people (Thank you to SilverSummit for sponsoring this), and free Ice Cream to the first 200 people provided by Model Ice Cream!
Attendees enjoyed activities such as a Raffle for a 'Chance to Win' big prizes through our Passport to Resources and Black Wall Street, free dental screenings from Liberty Dental, and a disparities conversation panel featuring special guest speakers like Dr. Bayo-Curry-Winchell, Dr. Norris Dupree, Edward Coleman, and Paul Mitchell! Also available were free COVID and Flu vaccinations, free $25.00 American Express Gift Cards, per person, to those who received one or more vaccinations on site, and more!
The Mammovan was there from 7:40am to 2:40pm providing mammograms!
Brought to you by: ACCEPT, Washoe County Health District, Immunize Nevada, Black Wallstreet, The Black Community Collective, Liberty Dental, and Community Services Agency (CSA), SilverSummit HealthPlan, Nevada Health Link, Nevada Health Center, Model Dairy, Community Health Services, Anthem Blue Cross Blue Shield, Boys & Girls Club of Truckee Meadows, NAACP, and NANBPWC, Molina HealthCare, Zephyr Wellness, Rising for the People, Coffee Co. Parkinson Support Center of Northern Nevada, Progressive Leadership Alliance of Nevada, Nevada Urban Indians, Edward Jones, Solace Staffing, Greater Light Christian Church Women's Ministry, New Start Recovery Solutions, and Our Story.
Holly Jolly Health Party December 2022
On Saturday, December 3rd, 2022, ACCEPT had the pleasure of hosting the "Holly Jolly Health Party" at the Boys and Girls Club of Truckee Meadows located at 2680 E. 9th Street. Joined by community companies and vendors, we had many great experiences during the day! Molina Healthcare of Nevada helped us feed 130 people with Jimmy John's sandwich boxes, Liberty Dental gave free kids' dental screenings, Black Wallstreet had many amazing items to give away, and Community Health Alliance and Immunize Nevada vaccinated the public. They were able to help 104 people become vaccinated at the event with 40 people receiving COVID boosters and 64 receiving the Flu vaccine!
ACCEPT partnered with vendors to give over 35 raffle prizes away, kids jumped through the day in the bounce house, Dr. Bayo-Curry-Winchell held an "Ask the Doctor' medical session, and DJ "Duse Beatz,' had us all dancing the day away as attendees learned about the invaluable resources in our Washoe County community. Attendees were able to visit more than 25 vendors as they played our "ACCEPT: Passport to Community Resources' game.
We were very lucky to have vendors from all over northern Nevada participate in the "Holly Jolly Health Party," vendors like; Access to Healthcare, Anthem, The Black Community Collective, Black Wallstreet Reno, Boys & Girls club of Truckee Meadows, Casa De Vida's Closet, Catholic Charities of Northern Nevada, Community Health Alliance, Community Services Agency, Children's Cabinet, D'ataea's 5.3 Handmade Soap, Greater Light Christian Center, Immunize Nevada, JOIN Inc, Liberty Dental Plan, Molina Healthcare of Nevada, Nevada Works Youth Council, Northern Nevada Hopes, Northern Nevada Hopes- Hope Springs, Northern Nevada Center for Independent Living, Northern Nevada Literacy Council, Silver State Fair Housing Council, Sherriff's Office, Silver Summit Health Plan, Tu Casa Latina, Washoe County Health District, and Women and Children's Center.
We are excited to partner with them again to make our next ACCEPT event, empowering.
Juneteenth 2022 This year ACCEPT had a successful day with sharing information on HIV/AIDS to the public, giving out HIV/AIDS and Substance Abuse quizzes, and interacting hands on with children and adults using the "drunk goggles". Thank you to Northern Nevada Black Cultural Awareness Society for hosting this annual event.